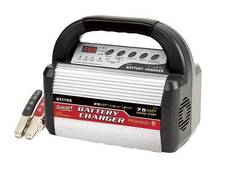 Buying a car battery charger
We are almost certain that most of you had car battery problems at least once in your driving years and we know that it is a totally unpleasant situation. So what can we do in order to get over these situations? Buy a car battery charger of course.
Not only regular users should look for a car battery charger, but also most auto shops or garages because you never know when a client may need a jump start or a quick charge. First of all, when choosing a car battery charger, you have to be aware of your needs, whether you need one that might be used once a year, or a professional one that should never let you down when you need it the most.

If you are a regular user don't spend too much on an expensive car battery charger because it simply isn't worth it. You will often find very good deals online and during sales periods, so take your time and hunt the best deals. If you are buying it for a garage, invest some money and go for a professional model.

Second hand chargers can also represent a good option, especially if you don't want to spend too much money on a new one. However, make sure it is in a good condition, comes at the right price and that it will be able to help you when you need it the most. Good luck shopping!